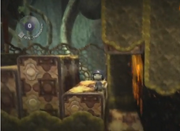 The Shifting Temple is a Minigame in LittleBigPlanet's Story Mode. It is in The Temples theme. In order to complete it the player must race to the scoreboard while trying to avoid being burnt or crushed. It is a score challenge level. Like all LBP 1 minigames, there are no prize bubbles. This level can be aced with patience and attention.
Videos
Ad blocker interference detected!
Wikia is a free-to-use site that makes money from advertising. We have a modified experience for viewers using ad blockers

Wikia is not accessible if you've made further modifications. Remove the custom ad blocker rule(s) and the page will load as expected.