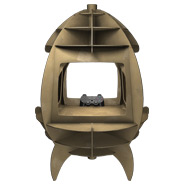 The Pod is the place where the play allowed to relax, and take time off from saving the Imagisphere from evil-doers. While relaxing, the player can decorate their Pod with stickers and decorations via Popit Menu. The Pod is also a great place for parties with friends online or even those in the very same room as you.
In-Game
In LittleBigPlanet, the Pod is given to you following your completion of the introduction level. It's a rather snazzy looking place, and from it's front view, you can see Craftworld and My Moon and the Info Moon in orbit.
The Pod does not have a large role in this game, as selecting a planet is done without it. Instead, it is a place that can be selected, where Sackboy can change his clothing.
In LittleBigPlanet 2, your pod is much as given to you, but created by Larry Da Vinci. From the view you can see Craftworld and Moon.
The pod in this game is more of a galactic spaceship than a pod, it has a metal torch on top and a wide view from the front, But unlike other LBP games you cant move about and to go on the Pod Computer you need to press X.
In LittleBigPlanet 3, your pod is the same as the previous games. From the view you can see Bunkum in the middle, the LittleBigStore, or Popit Puzzles on the left, and to the right is your Earth and My Moon. In an update, it was updated to a different interface.
Trivia
The Pod was originally called the Puter.

Puter is now a censored word in LBP. It is unknown why it is censored.

You can put materials and objects inside the Pod using a certain glitch.
In LittleBigPlanet, you were able to access the InfoMoon, which was where you could change your personal info. In LittleBigPlanet 2, the InfoMoon is gone and it was replaced by the News Feed Tab. It has not made a return since.
Gallery
Ad blocker interference detected!
Wikia is a free-to-use site that makes money from advertising. We have a modified experience for viewers using ad blockers

Wikia is not accessible if you've made further modifications. Remove the custom ad blocker rule(s) and the page will load as expected.