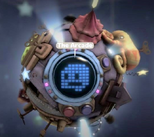 The Arcade is a place in LittleBigPlanet PS Vita that houses 5 mini games based on arcade games.
Ingame descriptions
These In-game descriptions can be found in LittleBigPlanet PS Vita.
Retro Vector

In this retro-inspired space challeng, you must guide your rocket ship around a series of caverns. Rotate your craft with the left stick and activate your thrusters with the R1 button. Purple blocks can be destroyed by firing your missiles with the X button.
Tapling

Aim with touch and boing your way through this gloomy forest labyrinth. Try to unlock all three cages before you complete each section!
Super Conductor

In this addictive game, use touch to manipulate your circuit modes and create the perfect connection. See if you're skillful enough to collect all the stars too!
StratoSphere

Use touch to guide the ball around this zeny maze and reach the goal. See if you're skillful enough to collect all the stars too!
Orb-it

Information Required
Image Required
See Also
Ad blocker interference detected!
Wikia is a free-to-use site that makes money from advertising. We have a modified experience for viewers using ad blockers

Wikia is not accessible if you've made further modifications. Remove the custom ad blocker rule(s) and the page will load as expected.