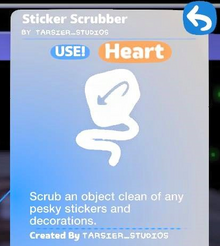 "Scrub an object clean of any pesky stickers and decorations." - LittleBigPlanet PS Vita
Used in create mode, the Sticker Scrubber lets you remove, Stickers and Decorations form any object you have placed them on. To use the Sticker Scrubber, open Popit and select "Stickers & Decorations" and then select "Sticker Scrubber." Next hover the Cursor over the object you wish to remove the stickers & decorations from, hit the cross button and the object will now be clear of any pesky stickers and decorations.
Trivia
Ad blocker interference detected!
Wikia is a free-to-use site that makes money from advertising. We have a modified experience for viewers using ad blockers

Wikia is not accessible if you've made further modifications. Remove the custom ad blocker rule(s) and the page will load as expected.