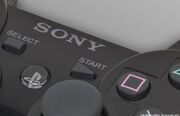 The Start Menu is a menu which can be accessed pretty much anywhere throughout the LittleBigPlanet universe. It can be accessed by pressing the 'Start' button.
Start Menu Features
Press the 'START' menu during gameplay and the Start Menu will be displayed. Choose 'Return to Pod' or 'Restart Level' or choose any of the other options below.
Videos and Voice Overs
Having trouble with LittleBigPlanet or your latest masterpiece? Don't get flustered: check out a wide selection of helpful Tutorial Videos - there are plenty to find on your travels!
Settings
Alter the LittleBigPlanet Display Settings and Audio Settings.
About this Level
Learn more details about the level you're exploring: who created it, the sights to see and what you can expect to do there.
Ad blocker interference detected!
Wikia is a free-to-use site that makes money from advertising. We have a modified experience for viewers using ad blockers

Wikia is not accessible if you've made further modifications. Remove the custom ad blocker rule(s) and the page will load as expected.