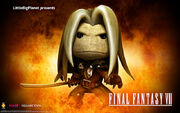 Sephiroth is a character in Final Fantasy VII. He is usually recognized by his dark, leather attire and long, flowing silver hair. He is infamously nicknamed the "One-Winged Angel" by many fans due to his one wing and lack of a second wing and his theme music. A Sackboy version of him was shown alongside Metal Gear Solid 4 hero, Old Snake, at the 2008 Tokyo Game Show. While the Metal Gear Solid Premium Pack has already been released, it has been confirmed that the Sephiroth costume will be released in LittleBigPlanet 2 on July 13, 2011 along with Cloud, Aeris, Tifa, and Vincent.
Fans have dismissed this costume's release. Most believe that it is just a teaser, after 3 years of waiting. The Sephiroth costume has been released along with Vincent, Tifa, Aeris, and Cloud in a costume pack priced at $6.00
There is an unused version of the Sephiroth costume, which looks similar to the final design.
It was originally going to be released in LittleBigPlanet, like the Rachet And Clank costumes.
See Also