The Seaside Surprise Level Kit is a new DLC for LittleBigPlanet 3.
Trivia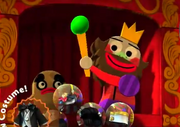 At least some of the pack's content is reused from LittleBigPlanet HUB, such as the aforementioned puppet show. It's likely that the entire level is the HUB original level reworked for LBP3.
Ad blocker interference detected!
Wikia is a free-to-use site that makes money from advertising. We have a modified experience for viewers using ad blockers

Wikia is not accessible if you've made further modifications. Remove the custom ad blocker rule(s) and the page will load as expected.