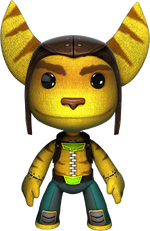 The Ratchet Costume is a downloadable outfit for LittleBigPlanet 2, LittleBigPlanet PS Vita, and LittleBigPlanet Karting that is available as part of the Ratchet and Clank Pack, one of the three bundles commemorating PlayStation Move Heroes. It was originally released as a bonus for the Collector's Edition of LittleBigPlanet 2, along with the Clank Costume, and was also a pre-order incentive for the standard version of the game.
Contents
Ratchet Skin
Ratchet Trousers
Ratchet Harness
Ratchet Hat & Ears
Ratchet Nose
Gallery
Ad blocker interference detected!
Wikia is a free-to-use site that makes money from advertising. We have a modified experience for viewers using ad blockers

Wikia is not accessible if you've made further modifications. Remove the custom ad blocker rule(s) and the page will load as expected.