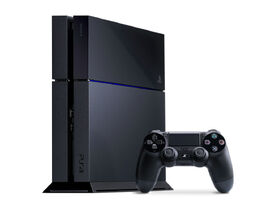 The PlayStation 4 (officially abbreviated as PS4) is a video game console created by Sony Computer Entertainment. It was announced as the successor of the PlayStation 3 in a press conference at E3 on the 20th of February 2013. It was launched on the 15th of November 2013 in North America, and 2 weeks later on the 29th of November 2013 in Europe and Australia.
The PlayStation 4 is a part of the 8th generation of video game consoles, and so competes with the Nintendo Wii U and Microsoft's Xbox One.
Controller
The PlayStation 4 brought with it an upgrade to the DualShock 3 controller, titled the DualShock 4. The DualShock 4 featured a brand new design, contrasting from the similar basic design used for the original DualShock, DualShock 2 and DualShock 3. It also featured the removal of the 'Start' and 'Select' buttons, and the addition of the 'Share' and 'Options' button, as well as a dual-touch Touch Pad in the centre. The 'Share' button allows users to save gameplay video captured from the past 15 minutes of gameplay, as well as saving and sharing screenshots to social media sites such as Twitter and Facebook, and broadcasting livestreams directly from the PS4 to Twitch and UStream.
Sony has published LittleBigPlanet 3 on November 18, 2014, which will be the first LittleBigPlanet game for the platform.
Ad blocker interference detected!
Wikia is a free-to-use site that makes money from advertising. We have a modified experience for viewers using ad blockers

Wikia is not accessible if you've made further modifications. Remove the custom ad blocker rule(s) and the page will load as expected.