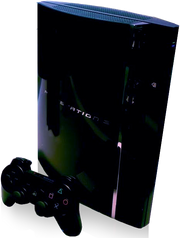 The PlayStation 3 (originally marketed as PLAYSTATION 3, commonly abbreviated PS3) is the third console created by Sony, released on November 11, 2006 in Japan. The successor of the PlayStation 3 is the PlayStation 4.
A major feature that distinguishes the PlayStation 3 from its predecessors is its unified online gaming service, the Sony Entertainment Network, which contrasts with Sony's former policy of relying on games developers for online play.
Related to LittleBigPlanet
LittleBigPlanet and LittleBigPlanet 2 were released exclusively on the PS3, and LittleBigPlanet 3 has been released on both the PlayStation 3 and Playstation 4.
Gallery
Ad blocker interference detected!
Wikia is a free-to-use site that makes money from advertising. We have a modified experience for viewers using ad blockers

Wikia is not accessible if you've made further modifications. Remove the custom ad blocker rule(s) and the page will load as expected.