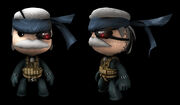 Old Snake
, a.k.a. 
Solid Snake
is the main character from
Metal Gear Solid
,
Metal Gear Solid 2: Sons of Liberty
, and 
Metal Gear Solid 4: Guns of the Patriots
, has had a
Sackboy
version made available in
LittleBigPlanet
with the release of the
Metal Gear Solid
expansion pack. It can be purchased separately, or in a pack with the other three Metal Gear costumes. This and the rest of the
Metal Gear Solid
accessories come with the
Game of the Year
edition of LittleBigPlanet.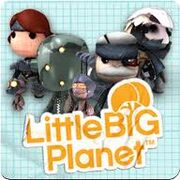 Costume Contents
Hair: Snake Hair and Bandanna
Nose: Solid Snake Moustache
See Also
Ad blocker interference detected!
Wikia is a free-to-use site that makes money from advertising. We have a modified experience for viewers using ad blockers

Wikia is not accessible if you've made further modifications. Remove the custom ad blocker rule(s) and the page will load as expected.