MyMoon is the third planet/type object in the Pod menu. It is the canvas for levels. MyMoon is a huge chunk of LittleBigPlanet and without it, there would be no community levels, a notable portion of LittleBigPlanet.
The MyMoon is, obviously, a moon. Its craters contain a vast possibility of locations for the future levels. On MyMoon the player has all the power to create their own level using Tool Bag, Goodies, stickers, and decorations. The player can show his/her creativeness with Score Challenges, Survival Challenges etc.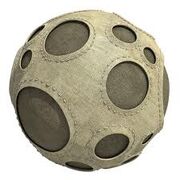 and also be saved for future levels.
The moon is naturally made out of Brown Canvas
In LittleBigPlanet 2 the Moon is there as soon as you get to your pod, so those that LOVE creating levels can do it asap.
In LittleBigPlanet 2 you can customize your very own Moon.
In LittleBigPlanet 3 a new level type, Adventures, was added to the moon. These show up as hexagonal tiles instead of a circle.
Trivia
The My Moon can be downloaded for 45

¢

as a PSN Avatar.
More on this topic
Videos
Ad blocker interference detected!
Wikia is a free-to-use site that makes money from advertising. We have a modified experience for viewers using ad blockers

Wikia is not accessible if you've made further modifications. Remove the custom ad blocker rule(s) and the page will load as expected.