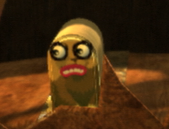 Meerkats are a species introduced in LittleBigPlanet. They live in The Savannah, but also make cameos in other themes as well.          
Notable members
Trivia
The sticker generally used for the Meerkats in the first LittleBigPlanet is actually of a gopher.      
The Collector disguises as a meerkat in the level The Meerkat Kingdom.      
Several meerkats can be seen in the level Up and At 'Em, being driven mad by the Negativitron.      
See also
Ad blocker interference detected!
Wikia is a free-to-use site that makes money from advertising. We have a modified experience for viewers using ad blockers

Wikia is not accessible if you've made further modifications. Remove the custom ad blocker rule(s) and the page will load as expected.