For more extended information related to Media Molecule, please visit Media Molecule on Wikipedia.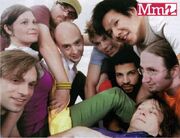 Media Molecule is a game development studio based in Guildford, United Kingdom. The studio was founded in January 2006 by former Lionhead Studios employees Mark Healey, Alex Evans, David Smith, and Kareem Ettouney. Before starting the company, the founders worked together on Healey's independent game Rag Doll Kung Fu while still at Lionhead. The studio's first game is the PlayStation 3 title LittleBigPlanet, which was announced and demonstrated at the Game Developers Conference 2007 by Phil Harrison. In an interview with BBC in October 2008, Alex Evans confirmed that Media Molecule is working on a sequel to LittleBigPlanet, but didn't provide any details. LittleBigPlanet 2 was fully announced on May 2010. After LBP2's release, Media Molecule decided it was time to move on from the LittleBigPlanet series, handing LittleBigPlanet 3's development to Sumo Digital, and several other companies.
Games for PlayStation
LittleBigPlanet - October 27th, 2008 (PlayStation 3)
LittleBigPlanet 2 - January 18th, 2011 (PlayStation 3)
Tearaway - November 20th 2013 (PlayStation Vita)
Tearaway: Unfolded - September 8th, 2015 (PlayStation 4) (with Tarsier Studios)
Dreams - Upcoming (PlayStation 4)
External links
Ad blocker interference detected!
Wikia is a free-to-use site that makes money from advertising. We have a modified experience for viewers using ad blockers

Wikia is not accessible if you've made further modifications. Remove the custom ad blocker rule(s) and the page will load as expected.