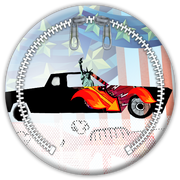 Lowrider
is the first of the Metropolis levels.
Walkthrough
As the title suggests, it's all about cars. Drive with Uncle Jalapeno to meet Mags the Mechanic, who offers you a new set of wheels. All of the driveable cars are controlled by a three-way switch - Hold down R1 and pull left or right to go forwards or backwards. Look out for the street lights, which can be grabbed, to get through the electrified rollers.
Keys
The Key on this level will bag you the Drag Race minigame.
Hidden Prizes
Level Complete
Aced
Collected All
Trivia
This is the only level where Uncle Jalapeno's car can be seen/used.