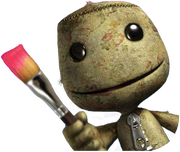 LittleBigPlanet Wiki is a wiki about the PlayStation 3, PlayStation 4, PlayStation Portable, and PS Vita games entitled LittleBigPlanet developed by Media Molecule, Sumo Digital, United Front Games, and Tarsier Studios. Basically, think of it as an encyclopedia or a database for LittleBigPlanet that anyone can contribute to.
It was started on April 29, 2007, by Little Sack Man.

Ad blocker interference detected!
Wikia is a free-to-use site that makes money from advertising. We have a modified experience for viewers using ad blockers

Wikia is not accessible if you've made further modifications. Remove the custom ad blocker rule(s) and the page will load as expected.