Gameplay

Guides & Community
Featured Article
Character Customisation is a way for the player to make their Sackperson, Toggle, OddSock or Swoop unique and different by applying various costumes and other clothing.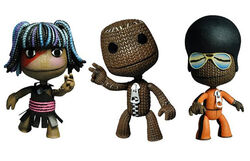 As well as the content unlocked by playing the Story mode, various new costume pieces can be downloaded from the PlayStation Store or from inside the game.

In order to customize the player's sack person, press the

button to open the Popit Menu. Most customization can be done through the Customize Character submenu but Stickers and Decorations can also be attached using the Stickers and Decorations submenu. When applying stickers, the player's sack person is split into certain areas, the same as with costumes e.g. placing a large sticker on an eye will only colour the eye and not the rest of the face. After selecting Customize Character use the left analog stick or directional buttons to highlight different costume pieces and options. Press the L1 button or the R1 button to shuffle between pages. Press the

button to try an item on and press the

button again to take it off.
Featured Media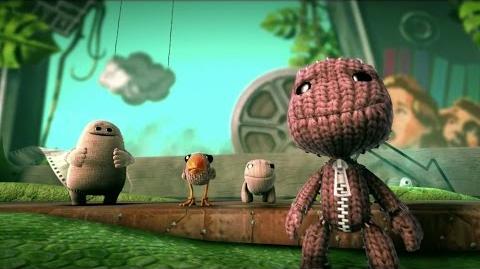 Latest News
Loading RSS data...
---
Affiliates of the LittleBigPlanet Wiki
Twitter
Wiki News & Blogs
Polls
Would you like a page that alows the sharing of you own LBP levels?
For more polls, see the poll archive.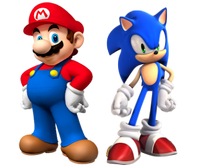 Platformer Games
Go to these sites for info or for help with your own wiki!
Azure Striker Gunvolt • Banjo-Kazooie • Broforce • Cave Story • Code: Hardcore • Conker • Contra • Crash Bandicoot • Donkey Kong • Drawn to Life • Freedom Planet • Geometry Dash • Jak and Daxter • Kirby • LittleBigPlanet • Mario • Mega Man • Metal Slug • Metroid • Mirror's Edge • Oddworld • Ratchet & Clank • Rayman • Shantae (and WayForward games) • Shovel Knight • Sly Cooper • Sonic • Spyro the Dragon • Strider • Tearaway
Want your community included? See how!

Ad blocker interference detected!
Wikia is a free-to-use site that makes money from advertising. We have a modified experience for viewers using ad blockers

Wikia is not accessible if you've made further modifications. Remove the custom ad blocker rule(s) and the page will load as expected.