Gameplay

Guides & Community
Featured Article

OddSock is one of Sackboy's new friends in LittleBigPlanet 3. Oddsock runs much faster than Sackboy can and it can also slide and jump off walls.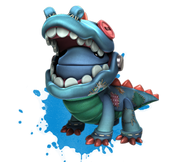 OddSock is customizable, with it's skin and attire being changeable, as well as in-game Stickers and Decorations being attachable to it's body.
OddSock lives in the great swamp of Manglewood, its rolling green banks the perfect spot for a madcap run through the world of Bunkum. Having saved the planet many years ago, OddSock has retreated to her pinball sanctuary beneath its putrid waters. But when Marlon Random arrives on the scene with a new hero asking for help, she joins Sackboy and sets off on her greatest adventure yet.
Featured Media
Latest News
Loading RSS data...
---
Affiliates of the LittleBigPlanet Wiki
Blogs
Polls
What is your favorite LittleBigPlanet game?
For more polls, see the poll archive.