"

PLAY, CREATE, SHARE... Everywhere.

"

— Advertising slogan

LittleBigPlanet is a spin-off title for the PSP developed by SCEE Cambridge. It is a spin-off of the original LittleBigPlanet. It was one of the free titles offered during the Welcome Back package during May 17, 2011 to July 3, 2011, after the PlayStation Network was brought down earlier that year.[1]
Plot
After the events of the first game, Sackboy goes on vacation to many exotic locations. They start in the Down Under, where they learn about the controls and their immenent journey, which is about the Carnival of Creators, where every Creator Curator is invited to it, however some have not responded to their invitation, so Sackboy is sent by The Mystic to see what's going on with these non-responders, and make their way to the Carnival of Creators.
Gameplay
Most of the gameplay is retained from the first LittleBigPlanet, however with a few downgrades, most likely due to hardware limitations.
For a full list of changes, see LittleBigPlanet (PSP)/Changes.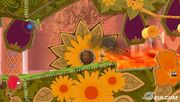 Server shutdown
Along with all LittleBigPlanet games in Japan, on June 30th, 2016, Sony announced that they would be shutting down the game's online servers at the end of July, and later LittleBigPlanet Karting at the end of August. The LittleBigPlanet community reacted negatively to the news. [2]
Trivia
This game was rated "Everyone 10 and up" instead of the usual "E for Everyone" rating for LittleBigPlanet titles. However, Sony used the wrong rating for LittleBigPlanet PSP's Boxart and information online.
This is one of three LittleBigPlanet games on a portable gaming console, the others being LittleBigPlanet PS Vita and Run Sackboy! Run!.
None of its canon have been referenced or mentioned in future games.
None of its DLC works in any other LittleBigPlanet game.
Before receiving update 2.05, the game was infamous for its level of stability; it would often use all of the PSP's processing power, leading to random crashes that had tend to happen while players created levels and downloaded content. The patch also fixed some minor physics problems.
Reference
Ad blocker interference detected!
Wikia is a free-to-use site that makes money from advertising. We have a modified experience for viewers using ad blockers

Wikia is not accessible if you've made further modifications. Remove the custom ad blocker rule(s) and the page will load as expected.