Ad blocker interference detected!
Wikia is a free-to-use site that makes money from advertising. We have a modified experience for viewers using ad blockers

Wikia is not accessible if you've made further modifications. Remove the custom ad blocker rule(s) and the page will load as expected.
LittleBigPlanet (also known as LBP) is an puzzle platformer game for the PlayStation 3, developed solely by Media Molecule & published by Sony Computer Entertainment Europe, that lets players create and share their own levels with other players using the items found in Prize Bubbles that are scattered throughout the Story mode & in-game tutorials. The game was first announced on March 7, 2007 by Phil Harrison[2], and then later released on October 24, 2008, however, due to lyrics in a song featured in the game, it was recalled and the song was replaced with it's instrumental.[3] The updated version of the game was released on October 27, 2008.
Story
"Enter a world of infinite possibilities, where imagination becomes reality and the powers of creation are firmly in your hands.
Take control of your very own Sackboy™ and use simple tools to create cool levels and nifty inventions, then share the fun via PlayStation®Network with your friends. Check out the amazing things created by other LittleBigPlanet™ fans: there's a new game waiting to be played every time you go online!" - PlayStation Store Description
Gameplay
In LittleBigPlanet, players get to control a fully customisable Sackperson (often known as Sackboy). This Sackperson is controlled with the left analogue stick that lets them move left or right and between the 3 layers. Like many games players jump with the X (cross button) and can grab objects using the R1 Button. Throughout the game players pick up Costumes, Objects, Materials, Stickers, Decorations & Tools, which can used in the game's Create Mode found on the player's own "Moon". Some of these items like stickers can be placed in the main levels or on the Sackperson, useful if the player wants to change the colour of their Sackperson's attire.
Players navigate their way through the levels by jumping, pushing, grabbing, running to overcome numerous puzzles and encounter physics-based enemies ranging from the small such as burning logs, to big "bosses" built around one of six AI "brains" available in the player's create mode toolset.
Trivia
Box Art
Gallery
Trailers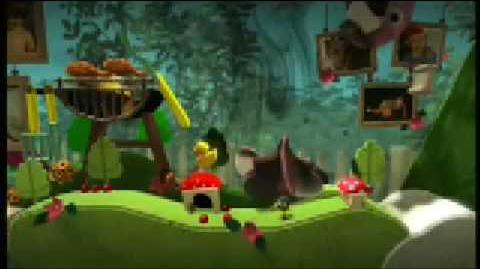 See Also
External Links
References
Most of the content here is added by wikia members. Many forget to source their information, in most cases it's not necessary or can no longer be found. If you find content without a source feel free to add it. Refer to this page for help.
^ "Game first announced by" archived News artical: https://web.archive.org/web/20080429033129/http://kotaku.com/gaming/ps3/gdc-07-sony-reveals-littlebigplanet-242171.php