Layer Launchers are upgraded Bounce Pads and serve as a type of gameplay tool used throughout LittleBigPlanet 3. Like their old counterpart, they activate when touched (except blue ones, they must be manually activated by pressing X). However, they allow the players to toss themselves through layers. Besides just flinging the player from layer to layer, they can also serve as a targeting Bounce Pad which will fling players to where you put the arrow. They do not even have to launch the player through layers!
They are in the Getting Around category, rested just next to the Bounce Pad.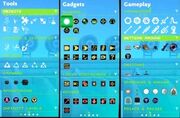 Ad blocker interference detected!
Wikia is a free-to-use site that makes money from advertising. We have a modified experience for viewers using ad blockers

Wikia is not accessible if you've made further modifications. Remove the custom ad blocker rule(s) and the page will load as expected.