Larry Da Vinci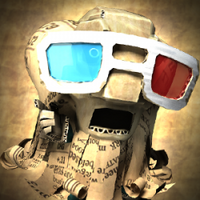 Larry Da Vinci
Larry Da Vinci is the leader and founder of The Alliance as well as the Creator Curator of Da Vinci's Hideout, in LittleBigPlanet 2. He helps sackperson during his second adventure.
Background
Larry is the leader of the Alliance to defeat the Negativitron. In the beginning of the game he saves the player from being sucked into the Negativitron. Avalon, the only other member of the Alliance at the time, keeps interrupting Da Vinci. After Avalon leaves, he proceeds to give the player his/her pod.
He accompains Sackboy/Sackgirl through the mission to save Craftworld, however he does not give aid in Eve's Asylum.
In the final battle against the Negativitron he supplies the player with cake in the 3rd and final stage, along with Victoria.
Larry re-appears in LittleBigPlanet 3 as a Popit Tutor in the Popit Puzzles challenges, where he teaches the player how to use the basic level-editing tools.
Character
Appearence
Larry DaVinci is mostly a paper humanoid creature. With a cardboard face and angled features, such as his big nose. Larry sports a long book page beard and two small eyes. He wears gloves and big boots and his body is similar to that of a Sackperson. He also wears a pair of big 3D glasses.
Personality
Larry is a tempered individual, who, even though he is a natural leader, has little patience to handle little things, such as wastes of time. He is also very old which not makes him forget his name quite often. Larry is a good tutor and a caring companion, ready to cheer who's down.
Relationships
Sackboy/Sackgirl: Larry is Sackboy's/girl's tutor throughout Little Big Planet 2. Being the one who saves it from death by Negativitron, Larry may act as if Sackboy/girl owes him something, immidiately testing him and enrolling him in The Alliance. However, Larry is also a good comIn the begginpany for Sackboy/girl.
Avalon Centrifuge: Avalon is one of Larry's Aliance first members. However, contrary to what would be expected, the two do not get along. Avalon's big ego and overpowerment over him never made Larry satisfied, in fact it makes him rather annoyed. Dispite this, Larry cares for his team-mate enough that he joins the team when they're saving him from his kidnapper.
Victoria Von Bathisphere: Larry seems to have romantic feelings towards Victoria, feeling saddened when she can't continue with them. The two are close friends however and Larry has a list of nicknames for Victoria and makes her feel better when her inventions do not go as planned.
Larrys leve
These are Larry Da Vinci's levels:
Story level appearances
He appears in the Popit Puzzles and no where else.
Trivia
Gallery