Larry Da Vinci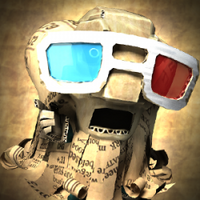 Larry Da Vinci
Larry Da Vinci is the leader and founder of The Alliance in LittleBigPlanet 2. He helps sackperson during his second adventure.
Background
Larry is the leader of the Alliance to defeat the Negativitron, as well as the Creator Curator of Da Vinci's Hideout. At the beginning of the game he saves the player from being sucked into the Negativitron. When he greets you he has a hard time remembering his name, probably because Avalon, the only other member of the Alliance at the time, keeps interrupting Da Vinci. After Avalon leaves, he proceeds to give the player his/her pod.
In the final battle against the Negativitron he supplies the player with cake in the 3rd and final stage, along with Victoria. He is usually nervous, especially around Victoria. In one cinematic, when Larry is talking to Victoria, a love heart pops up above his head (after you defeat Kling Klong). When Victoria informs Larry that she can't leave the mess, the love heart cracks and falls apart. He appears in all levels except those in Eve's Asylum. At the start of LBP2 he trains you to fight The Negativitron. Larry finds Avalon very annoying, similar to Clive.
Larry re-appears in LittleBigPlanet 3 as a Popit Tutor in the Popit Puzzles challenges, where he teaches the player how to use the basic level-editing tools.
Larrys levels
These are Larry Da Vinci's levels:
Story level appearances
He appears in the Popit Puzzles and no where else.
Trivia
Gallery