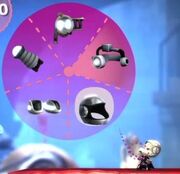 The Hook Hat is a Power-Up that enables a Sackperson to ride on hooks, first introduced in LittleBigPlanet 3. You obtain this Power-Up in 'Go Loco', a level in The Ziggurat. Use R1 to grab on to the rails, and use the left stick to move your Sackperson.
You can obtain a sticker of the Hook Hat in the level The Great Escape.
Trivia
Despite its name, it looks more like a racing helmet. 
When LittleBigPlanet 3 was first released, the Hook Hat icon was broken in the Sackbot tweak menu, showing an icon of a grey box, that displayed text saying "FIX ME HOOK HAT".[1] One day a Sumo Digital employee came in with the mentioned icon on a shirt, prompting Sumo Digital to release a "FIX ME HOOK HAT" T-Shirt DLC for Sack-thing to wear.[2]
References
See also
Ad blocker interference detected!
Wikia is a free-to-use site that makes money from advertising. We have a modified experience for viewers using ad blockers

Wikia is not accessible if you've made further modifications. Remove the custom ad blocker rule(s) and the page will load as expected.