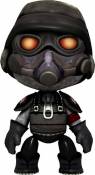 The Helghast sackboy costume, based on the Helghast from the Killzone series of games, was shown in a pre-launch trailer for LittleBigPlanet. The costume was released on the PSN Store on March 19th and included 32 Killzone-themed stickers. The pack itself was for amusement only and did not improve the game with patches, but allowed the player to create or improve levels in the Killzone game universe.
Killzone is a shooter that tells the story of the war between Humans and Helghast for the control of a planet called Vekta.
Ad blocker interference detected!
Wikia is a free-to-use site that makes money from advertising. We have a modified experience for viewers using ad blockers

Wikia is not accessible if you've made further modifications. Remove the custom ad blocker rule(s) and the page will load as expected.