Gurlukovich Soldier is a costume unlocked in the Metal Gear Solid Premium Pack
General Info
The Gurlukovich Soldier is a costume in LittleBigPlanet that you can get in the Metal Gear Solid Level pack (This is the only MGS costume that you get in the level pack). It represents the antagonist faction from
Metal Gear Solid 2: Sons Of Liberty
.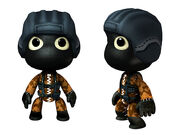 The pack was released on December 23 and contained (facultative) 5 different costumes, or the Gurlukovich soldier costume if you just bought the level pack. The pack contains 5 levels and many objects and stickers.You cannot get more costumes by acing levels so no reason to try doing so.
How To Obtain This Costume.
The Gurlukovich Soldier uniform can be unlocked in Act 1:Introduction of the MGS level pack during the story.To obtain the costume you must ace Act 1 (going though an entire level without dying). This is not hard and almost impossible to die without killing yourself as there are no enemies since the level has Liquid Ocelot tell the story behind the pack.
Costume
The costume comes with:
"Gurlukovitch Soldier Uniform"(Sack Material)
"Gurlukovich Soldier Vest"(Torso)
"Gurlukovich Soldier Helmet and Mask (Head)".
Ad blocker interference detected!
Wikia is a free-to-use site that makes money from advertising. We have a modified experience for viewers using ad blockers

Wikia is not accessible if you've made further modifications. Remove the custom ad blocker rule(s) and the page will load as expected.