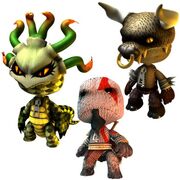 God of War is a PlayStation game franchise. Sackperson versions of some of its characters (Kratos, Medusa, and Minotaur) and a God of War-themed level pack can be downloaded to LittleBigPlanet if players pre-order the game at GameStop or EB Games Australia. You can now download the level pack from the PlayStation Store for $2.99 in America and £2.39 in the United Kingdom, which contains the Medusa and Minotaur costumes. Kratos' costume is also now available to the general public as DLC for $1.99 in America and £1.59 in the United Kingdom.
Kratos: Once a slave to the Olympians, now the slayer of the gods.
Medusa: One of the three Gorgon sisters, who can turn their enemies into stone with their gaze. Her hair is made of snakes.
Minotaur: A mythical beast, half-man and half-bull.

00:31

Little Big Planet God of War
Trivia
All of the costumes are based on the first God of war game, and all the stickers are based of the second.
Medusa In LittleBigPlanet is green, but in god of war she is pinkish/red.
The Kratos costume, In some pictures,has light white skin, but ingame, he has dark white skin.
Kratos in is original form appears in Playstation All Stars Battle Royale.
Ad blocker interference detected!
Wikia is a free-to-use site that makes money from advertising. We have a modified experience for viewers using ad blockers

Wikia is not accessible if you've made further modifications. Remove the custom ad blocker rule(s) and the page will load as expected.