First Steps

World

Difficulty Level

Super Easy

Game

LittleBigPlanet (PS3)

Power-Ups

None

Characters
'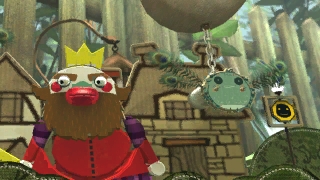 '
First Steps
is the first playable
level
in
LittleBigPlanet
and is located in
the Gardens
. It introduces the player to many basic gameplay characteristics. In this level you are introduced to
The King
, the creator-curator of
The Gardens
, along with
The Queen
.
Items Collected
Stickers
Tools
Costumes
Elizebethan Doublet
White Ruff
Fancy Moustache
Speech Bubble Frame
Bonnet
Black and White Photo Frame
Elizebethan Dress
Elizebethian Trousers
Elizebethan Hat
Level Completed Items
Costumes
Collected All Items
Stickers
Objects
The Gardens Concept with Frame
Aced Level Items
Costumes
Pirate hook
Pirate eyepatch
Ace 'First Steps'
To ace the level you will need to find the sticker switch of the rainbow shoe (Found after completion of this level). This will drop a bird just before the bridge that collapses. Grab onto the bird to pass over the collapsing bridge. This allows you to avoid the lesson on being trapped which costs you a life.