Ad blocker interference detected!
Wikia is a free-to-use site that makes money from advertising. We have a modified experience for viewers using ad blockers

Wikia is not accessible if you've made further modifications. Remove the custom ad blocker rule(s) and the page will load as expected.

Electricity is a hazard that appears in LittleBigPlanet, LittleBigPlanet PSP, LittleBigPlanet 2, LittleBigPlanet PS Vita, LittleBigPlanet Karting, LittleBigPlanet 3 and Run Sackboy! Run!. When you electrify something, it will turn a shade of blue and have a lethal electric current running through it. One simple touch and the Sack person will instantly die.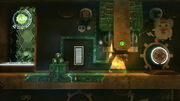 Trivia