The
Creatinator
is a character enhancement introduced in
LittleBigPlanet 2
, it first appears in the third level of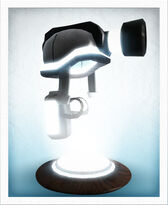 Victoria's Laboratory
. This enhancement allows the player to emit objects, like an
Emitter
. Unlike the related
Paintinator
, it can emit not only paintballs, but anything it is set to. (i.e. missiles, blocks of materials, water, and even other Sack persons!) A switch that is operated by this tool is the Projectile Sensor, which looks like a progress bar. The light bands around the Creationator change according to the player's Popit color. The Creatinator can also be decorated to suit a particular theme (
Eve's
splashcannons are blue with a valve on the back, and
Victoria's
cakeinators look like decorated cakes). Wearing the Creatinator removes the player's hat and/or headgear.
Videos
Trivia
In LittleBigPlanet 3, there is a new tweak menu that allows you to change the appearance into a Blink Ball.
In the beta, it has the appearance of the paintinator. 
Gallery
Ad blocker interference detected!
Wikia is a free-to-use site that makes money from advertising. We have a modified experience for viewers using ad blockers

Wikia is not accessible if you've made further modifications. Remove the custom ad blocker rule(s) and the page will load as expected.