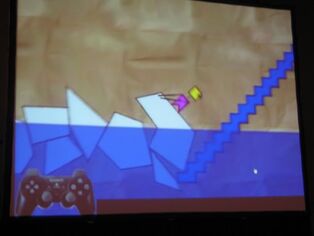 Craftworld
was the name of the original prototype of
LittleBigPlanet
, and featured a character named
Mr. Yellowhead
, or Yellow Head. The main feature was the physics engine and the ability to grab and throw stuff, both of which are quite similar to the versions of these features which ended up in the final version of 
LittleBigPlanet
.
The graphics are a lot more basic and the colours used are basic block colouring with no shading or gradients used, unlike within LittleBigPlanet, where a lot of the story levels are based around are detailed and rendered using 3D models. The main character, Yellow Head, was much more basic in color, looks and even movement compared to Sackboy.[1]
Trivia
Yellow Head can be obtained in LittleBigPlanet by acing the last level, The Collector.
The left and right analog sticks were the only controls you could have used to play the game.
Reference 
Ad blocker interference detected!
Wikia is a free-to-use site that makes money from advertising. We have a modified experience for viewers using ad blockers

Wikia is not accessible if you've made further modifications. Remove the custom ad blocker rule(s) and the page will load as expected.