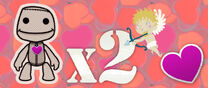 Co-operative challenges
are a gameplay feature, that first debuted in
LittleBigPlanet
. They require two or more players to solve a puzzle to receive
Prize Bubbles
. They often are marked with a x2, x3, or x4 to show where they are. 
Trivia
The first Co-operative challenge is found in Skate to Victory.
Some Co-operative challenges can be done with a single player, however most are quite difficult.
Gallery
Ad blocker interference detected!
Wikia is a free-to-use site that makes money from advertising. We have a modified experience for viewers using ad blockers

Wikia is not accessible if you've made further modifications. Remove the custom ad blocker rule(s) and the page will load as expected.