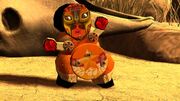 Calavera is a character from The Canyons. He is the arch rival of Luchador.
Description
Appearance
Calavera looks very much like his rival Luchador, but yellow/orange where Luchador is red. He also has less black around his eyes.
Name
Calavera is Spanish for "sugar skull", a type of decoration used during the Mexican holiday Dia De Los Muertos.
Levels
Ad blocker interference detected!
Wikia is a free-to-use site that makes money from advertising. We have a modified experience for viewers using ad blockers

Wikia is not accessible if you've made further modifications. Remove the custom ad blocker rule(s) and the page will load as expected.