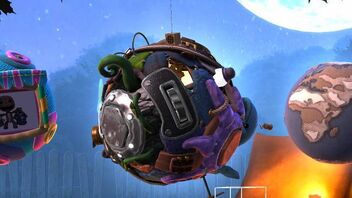 "

In LittleBigPlanet 3, explore a world filled with creativity as you explore all corners of the Imagisphere, meet the inhabitants of the mysterious planet Bunkum and face the nefarious Newton.

"

— LittleBigPlanet 3 adventure description

Bunkum is the world in which the story mode of LittleBigPlanet 3 is set in. This is where OddSock, Toggle and Swoop come from, and is also home to Newton, the game's antagonist, as well as a bunch of other wacky characters you will meet within the story. Bunkum is spit up into four sections which are the four themes of the story mode; Prologue, Manglewood, The Ziggurat, and Bunkum Lagoon. The world has 33 playable levels (including mini-games) and 13 cutscenes.
Media
Trivia
The word "Bunkum" is a synonym for nonsense.
A decoration of Bunkum is used in some story levels. It is only obtainable via glitches.
Ad blocker interference detected!
Wikia is a free-to-use site that makes money from advertising. We have a modified experience for viewers using ad blockers

Wikia is not accessible if you've made further modifications. Remove the custom ad blocker rule(s) and the page will load as expected.