Beta's are exclusive for the LittleBigPlanet series.
LittleBigPlanet
A beta of LittleBigPlanet was playable when Eurogamer first gave away beta codes on September 23. From them on, various other gaming websites gave away beta codes until they expired on October 12. There were about 75,000 beta codes given away.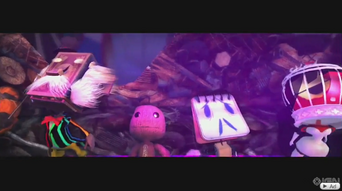 LittleBigPlanet 2
The beta for LittleBigPlanet 2 was released on the second week in Sepetember 2010.
LittleBigPlanet Vita
The beta for LittleBigPlanet PS Vita was released in June 2012.
LittleBigPlanet Karting
The beta for LittleBigPlanet Karting was released in July 2012.
LittleBigPlanet 3
The beta for LittleBigPlanet 3 was released in August, with beta invites rolling out slowly until September. On October, a second wave of invites started. On October 17, the NDA was lifted. The beta was closed in November, but you can still play the beta by pressing START on the beta closed screen. You were able to play Popit Puzzles: Term 1, Manglewood's Crumbling Crypts, and Ziggurat's Tutu Tango. You were also able to publish levels and create.
It was been said that they had an Emerald Jester outfit in the beta, but it wasn't put in the actual game itself.
Overview
The beta for the first game took up almost one gigabyte of the PlayStation 3's storage. When downloaded, players could play all five levels in The Gardens. They were also able to create their own levels.
Ad blocker interference detected!
Wikia is a free-to-use site that makes money from advertising. We have a modified experience for viewers using ad blockers

Wikia is not accessible if you've made further modifications. Remove the custom ad blocker rule(s) and the page will load as expected.